Asset Management is a module within the Ostara CAFM System that allows you to optimise the whole life costs of an asset base, in conjunction with your processes for the installation, commissioning, operation, maintenance and disposal of assets.
Here at Ostara Systems Limited, our Asset Management Software (AMS) module ensures the lowest whole life cost outcomes for the business, reduces downtime and is vital for decisions regarding Capital budgeting and expenditure.
Assets are an integral part of the facilities management process. For efficient management of your business assets, it requires a strong and accessible database, otherwise known as asset management software. This software ensures that asset information is captured to the fullest extent.
That's why this module in the Ostara CAFM System captures a wealth of information about individual assets, with the flexibility to provide further detail if it is at a business's disposal.
It requires the understanding and management of risk at all stages in the asset lifecycle: 
Asset history (reliability and financial)

Upload supporting images & documentation

Warranty control

FGAS legislation (where applicable in your country)

Asset hierarchy

Meter readings

Document upload
Asset Management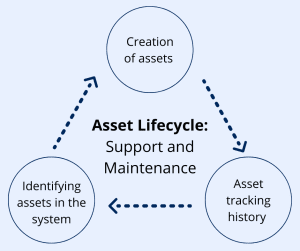 Within the Ostara System, it captures valuable asset data and information. Asset details can be captured in a number of different ways within the system, from bulk imported Excel spreadsheets to individual manual additions.
When assets are uploaded into the system, our clients can tag them for easy identification and ensure better asset tracking. Our Asset Management module helps aid the facilities management process and supply chain during CAFM System visits.
The Ostara System supports the maintenance of an asset throughout its lifecycle.
Creation of an Asset
The life expectancy and depreciation of an asset can be entered into the system, alongside warranty information (e.g. length of the warranty, what is and isn't covered and who the provider is) together with asset condition. Through inputting warranty information into the system, it auto allocates faults accordingly. Asset activity and spend history is available in reporting, alongside any documentation loaded against each asset.
Asset Tracking History
The Ostara System is comprehensive and has the ability to track the history of an asset. 
Track literal asset movement on site

Previous locations and operational status

Monitor downtime cost

Asset activity and spend history
When asset condition is input into the Ostara system, it can be used as a measure to assess when to replace an asset. These features within our asset management module allow businesses' to develop a full asset management strategy with real-time data.
Identifying an Asset in the System
In the Ostara asset management system, the asset does not need to be identified by a number, the identifier can be anything you decide – they could even be the serial number from a piece of equipment.